Upwork Branding Missing the Mark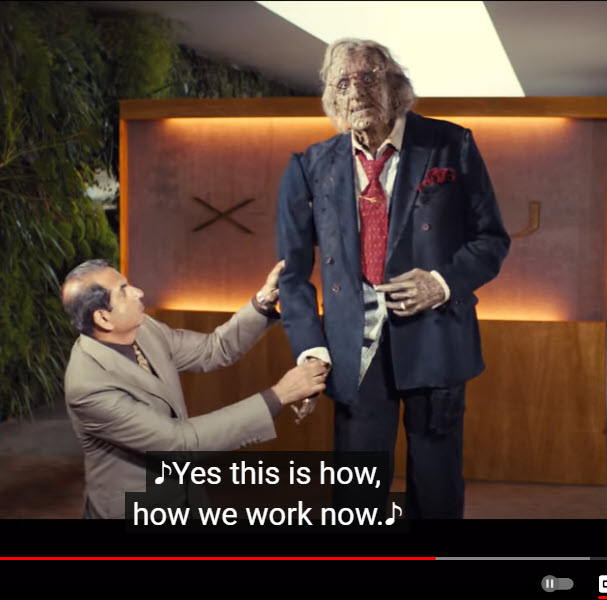 Upwork Branding Missing the Mark – What first caught my attention was the melody of the music bed. The theme reminds me of an old 1950's Western theme. Moreover, a Western piece has nothing to do with the video. Furthermore, it has less to do with the actors or the script. This is all somewhat disjointed, not to mention the main character is falling apart at the joints. (Sorry, I could not resist).
Old Zombie Upwork Guy
Another strange visual is the old zombie guy himself. He does not look like he's from India, Pakistan, Bangladesh, Sri Lanka, or Nepal. He looks like some old white-guy zombie from anywhere USA. However, all his assumed employee relatives hanging on the wall look to be from that region of the globe. Maybe their his step-sons? (That's probably a stretch)

Commercials often aim to capture viewers' attention and create memorable experiences. Sometimes, advertisers use unconventional or unexpected elements to stand out. It's possible that the commercial was intentionally designed to be quirky or intriguing, combining seemingly unrelated elements to make a lasting impression.
Effectiveness and Impact
The effectiveness and impact of a commercial can vary from person to person. Some people may find the combination of a zombie-like character and old Western music entertaining or thought-provoking. In contrast, others may find it confusing or unrelated to the brand being advertised.
Ultimately, the success of a commercial depends on how well it resonates with its intended audience and effectively communicates the brand's message or values.